Gaming influencer marketing has been on a surge over the last few years. With more and more people becoming game enthusiasts, gaming influencers have become an essential part of the marketing mix for companies looking to reach a wider audience.
Gaming influencer marketing is one of the most effective ways of reaching a larger audience. Gaming is massive, and there are many highly skilled gamers out there who have a large following.
By partnering with these influencers, you can reach their audience and expose your product or service to millions. Partnerships with gaming influencers will also help you gain credibility among your target audience, leading to better sales for your business.
Gaming has some of the biggest influencers in the world. A massive audience watches Gaming video content, and gamers take gaming very seriously. This makes gaming influencer marketing extremely powerful, as we can reach many people with a message.
Over 300 billion dollars are already spent annually on gaming. Even the social networking company TikTok is spreading out into the gaming industry. Additionally, the market size is not by chance. More than 3 billion people play video games, which is more than 40% of the world's population.
The gaming sector is undoubtedly appealing, but as the market grows, so does competition. Traditional marketing strategies are less effective in highly competitive industries, so more businesses are turning to influencer marketing.
Why gaming influencers for Gaming Influencer Marketing Campaign 
Every month, millions of live streams are broadcast on Twitch and YouTube. The number of people who watched gaming material reached 1.2 billion in 2020, which is anticipated to rise.
In other words, there is a significant need for gaming content, but brands need help to satisfy it. So, Influencers produce the majority of it.
There are several reasons why influencer marketing collaborations are so popular:
Transparency

Target Audience

Community
Transparency: Brands can emphasize their video games' fundamental gameplay mechanics and features by collaborating with gaming influencers/creators.
Target Audience:  Creators are aware of current trends and what their audience like. Brands/Companies frequently lack the same detailed understanding of their audience, but content creators do.
Community: Gamers spend almost 6 hours each week on forums, according to Accenture. These frequent interactions encourage viewer content and can expand the audience size for your company.
Three elements for gaming influencer marketing success
Advertisers must define the target, set the appropriate KPIs, report data, evaluate performance, and perform other tasks while running influencer campaigns in the gaming industry.
InfluencerHai identified three key factors that significantly influence the performance of your influencer marketing campaign.
1. Invest some time learning about your clients.
Before launching a gaming campaign, you must consider your audience, needs, and preferences. Further, it goes beyond user behavior or demographics. Although there are billions of gamers worldwide, not all of them can be targeted.
Here are a few suggestions for how you might better comprehend your audience:
Learn where the players like to hang out. If necessary, get in touch with some of them and organize interviews.

Discover what they prefer. For instance, you'll probably need to look for English-speaking developers if they read or watch games in English.

Look at the content creators that your potential customers follow. You could create influencer personas for your campaign to build customer personas.
2. Prerequisites
There are many different game genres and gaming platforms, making the gaming industry complex. The variety indicates that social media profiles focus on producing content for incredibly specialized game genres. Your company can launch a focused campaign with their assistance.
InfluencerHai analyses influencer profiles using advanced AI algorithms. We've 55 distinct indicators to examine the strength of the content creators, brand match, and quality of the published content. InfluencerHai can even locate profiles whose followers are relevant to a gaming campaign despite the Influencer not belonging to the gaming industry. 
It is a tedious yet crucial task for every game company. Because of this, many organizations like to hire InfluencerHai to handle their influencer marketing campaign regime needs.
3. Creative Experiments
It might be challenging to keep up with all the posts on video games, including Plays, reviews, challenges, live streams, tutorials, and even video essays. While brands don't have to produce every kind of advertisement within a single campaign, it's a good idea to experiment with several formats to see which is most effective for your company.
Brands must provide comprehensive and simple-to-understand briefs to launch a successful campaign. For example, InfluencerHai collaborates carefully with each Influencer to ensure that the campaign accounts for the brand's needs and leaves enough opportunity for each Influencer's distinctive personality.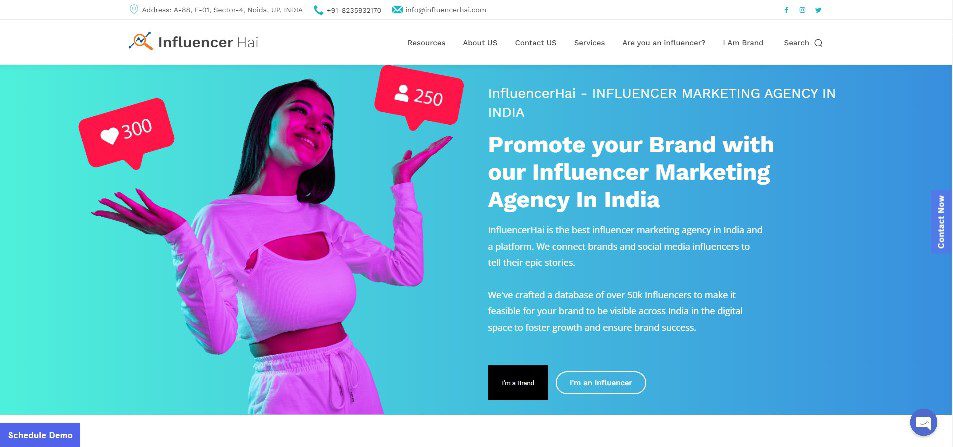 InfluencerHai A full-service influencer marketing agency, we help brands launch campaigns across various social media platforms in all categories.
Looking for the top agency to support the growth of your business? Submit this form. Our expert will contact you shortly.