InfluencerHai.com makes it easy for a brand to shorten the distance between influencers and find and connect with authentic influencers you need!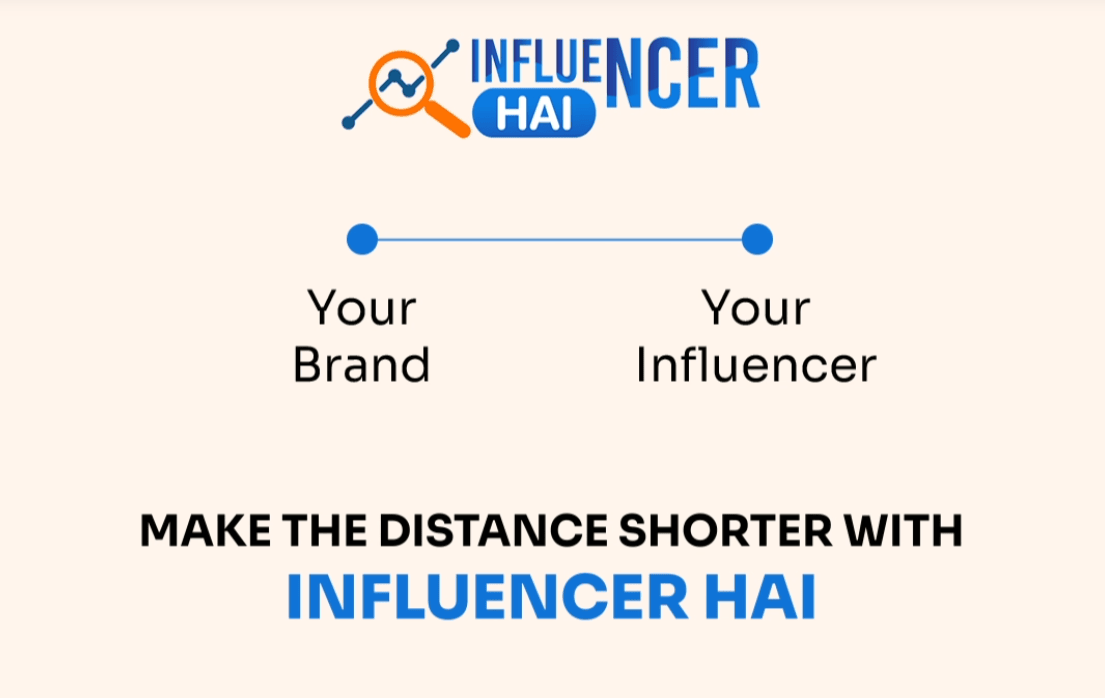 Influencer Marketing Agency
InfluencerHai is an Influencer Marketing Agency for interacting with influencers in an automated fashion. The platform analyzes the audience, the content, and the topics of the influencers and connects you with them without any mediators or unnecessary actions. 
Influencer marketing is challenging, and you're stuck spending hours trying to find the right influencers, negotiating contracts with them, and hoping they increase your bottom line. InfluencerHai is changing this by bridging the distance between brands and their influencers.
We live in an attention economy: the value of a product or service is judged by how many people talk about it. A brand's reach has been inexorably shifting from personal recommendations to content marketing.
Yet even in the digital age – more than a direct connection between customers and brands are needed. Traditional PR agencies are no longer effective today. 
Influencer's Word-of-Mouth 
Word-of-mouth is the most credible form of publicity resulting in 7 times more sales than traditional PR and introducing InfluencerHai, the best influencer marketing agency that connects BRANDS with INFLUENCERS to create magic.
Influencer Marketing is changing the game regarding getting your content in front of your ideal customers. The most effective Influencer Marketing is more than paying top dollar for advertising. You also need to be at the right place at the right time. 
Why us?
That's where we come into play. We help you with three crucial steps: 1. Finding the right influencers that fit your brand image, 2—making quick and easy contact with them 3. Personalizing and customizing your request to get a faster response (and better results). Join our unique platform for free to discover, target, and reach out to thousands of famous bloggers for maximum exposure to your brand! Interested?  Learn more here: https://influencerhai.com/i-am-brand
Influencer marketing is the new fad in digital marketing. Are you looking for brand ambassadors? Then you are at the right place. InfluencerHai helps you to find the most influential people in any specific niche, and all you need to do is post a job, and we will see all your recruits!
Advertise your Brand/Company
Want to advertise your company and products on one of the most influential Youtube channels? Then you're at the right place! Our platform is designed for businesses to interact with social media influencers. We speed up the process from searching for creative, talented, and relevant influencers to contract to sign. With a few clicks, you'll be able to choose your target audience and design the best marketing campaign!
Drive More Sales
Influencer marketing is one way to build your brand and drive sales, but there are other ways. Depending on your selling, pricing can range from a few grand to tens of thousands of dollars to have an influencer review and talk about your product. Except that there's a much easier, more accessible alternative: video reviews on Youtube. 
Get more exposure
InfluencerHai connects the influencer creating content with brands looking to get more exposure. If your brand is into makeup, you send influencer stuff to try out; they put together an honest review + some enviable 'swatches,' and then you get more exposure for your brand through their Youtube channel.
How we help you?
There are hundreds of thousands of bloggers, and while they touch many people, they can't possibly feel every potential customer. Bloggers want to reach people interested in their brand, but there's a distance. They need help to connect with and customize an experience for every individual. InfluencerHai bridges that distance by helping you find and connect with the hundreds or thousands of bloggers you need to tell your story to. We have 100+ experts on our team ready to get you started.
Reach Your Audience
In marketing, there are three main ways to reach your audience: searching, scanning, and sharing. This means reaching out through email newsletters and social media for most businesses. While these methods are great for establishing a relationship with customers and followers, they can be impersonal and ineffective at building brand awareness and credibility over time.
You have a business idea but need to know how to grow it. The 'rules' for building businesses keep changing, and so do the ways people market them and reach out to influencers.
Have you ever wished that some of your favorite Youtubers or website writers, or comedians would share your work? Or maybe there's someone you wanted as a guest on your podcast, and you could never reach them. Cool, we've built a website to fix that for you. This is still a new tool, so we're experimenting with it.