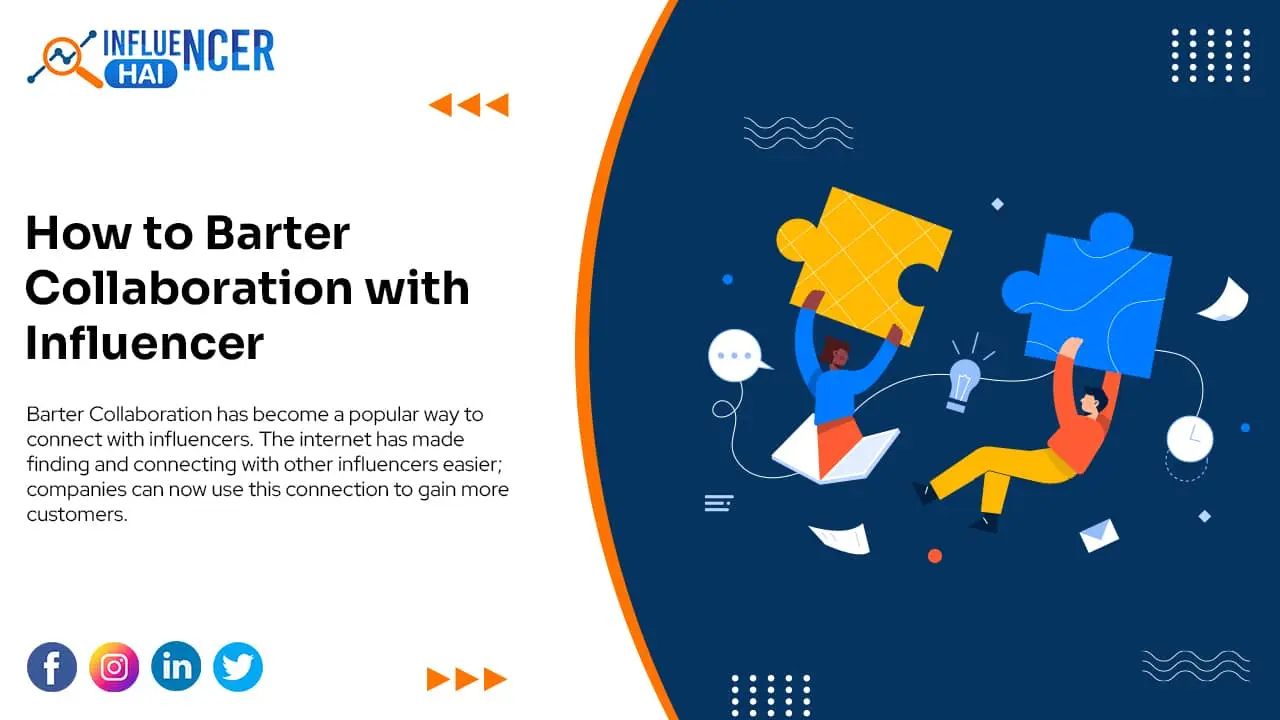 Barter Collaboration has become a popular way to connect with influencers. The internet has made finding and connecting with other influencers easier; companies can now use this connection to gain more customers.
Influencer marketing is becoming more popular because it helps establish trust between brands and their target audience. If you want your campaign to be successful, There are different types of barter collaborations to select the best one for your needs. Here's everything about the topic you should know:
Various influencer marketing collaboration
Influencer marketing is a great way to grow your business. There are many different types of influencers, and you can collaborate with an influencer in many ways. You can also collaborate with other companies!
Which type of barter collaboration is best for influencers?
Barter Collaboration With Influencers
Bartering with influencers is also a great way to build your brand and reach new audiences. Influencers can help you with marketing opportunities, audience building, and product testing. While it's essential to be strategic when working with an influencer, there are also many ways you can connect through the barter platform:
You can offer free products or services in exchange for an article or video about them. You may not always get what you want from this arrangement (i.e., free products), but if done right—and assuming that both parties trust each other—it could be beneficial for both parties involved! The best part? You don't need any extra money upfront!
Barter Collab With Peer Influencers
Partnering with influencers in the same industry is crucial if you're building a business. These people have built successful brands and a solid social media following. They can help make your brand, increase sales and boost visibility for your business.
And let's remember personal brands! Influencers can also help build personal brands by promoting products or services that align with their interests. For example: If an influencer loves fashion but doesn't have time to wear many different clothes each day (like me), she might be willing to review clothing items tailored to her specific style needs.
Barter Collab With Small Businesses
While small businesses are the backbone of our economy, they're also more likely to be interested in barter collaboration. It is because they have less overhead and can offer influencers valuable services and products that don't necessarily fit into what others may want from you.
For example, if you want to collaborate with a fashion blogger but need help figuring out where to start or what will make sense for them (and vice versa), ask your small business contact for some intel! They'll be happy to help out regardless of your brand's size.
Barter Collab With Brands
Barter collaboration is a great way to get started in influencer marketing, and it's also one of the most cost-effective ways.
Click here for brands to work with you, and some things can help make this process easier:
It would help if you had got a strong portfolio of work

Make sure the brand has a good reputation on social media

Be willing to negotiate fees with potential partners
Try out various forms of collaboration and find the one that works best for you.
Try out various forms of collaboration and find the one that works best for you.
Collaboration can take many different forms. Here are some examples:
You might have an influencer who wants to share your content on their social media channels, but they don't want everyone who follows them to see it yet (they're waiting until they've gotten some traction). You could create an exclusive landing page just for them where only followers of theirs will be able to see it, or even create a new account specifically for this purpose, so people know when they're viewing something from someone else's network.

Maybe another influencer in your network has already been following along with your posts but has yet to comment. You could reach out via email or DM (direct message) and through traditional channels such as Facebook Messenger/Whatsapp, offering them incentives such as free products in exchange for sharing from your brand's store page.*
Conclusion
Collaborating with influencers to attract new customers and expand your brand reach is a proven possibility. Once you've determined the type of collaboration that works best for you, it's time to start!