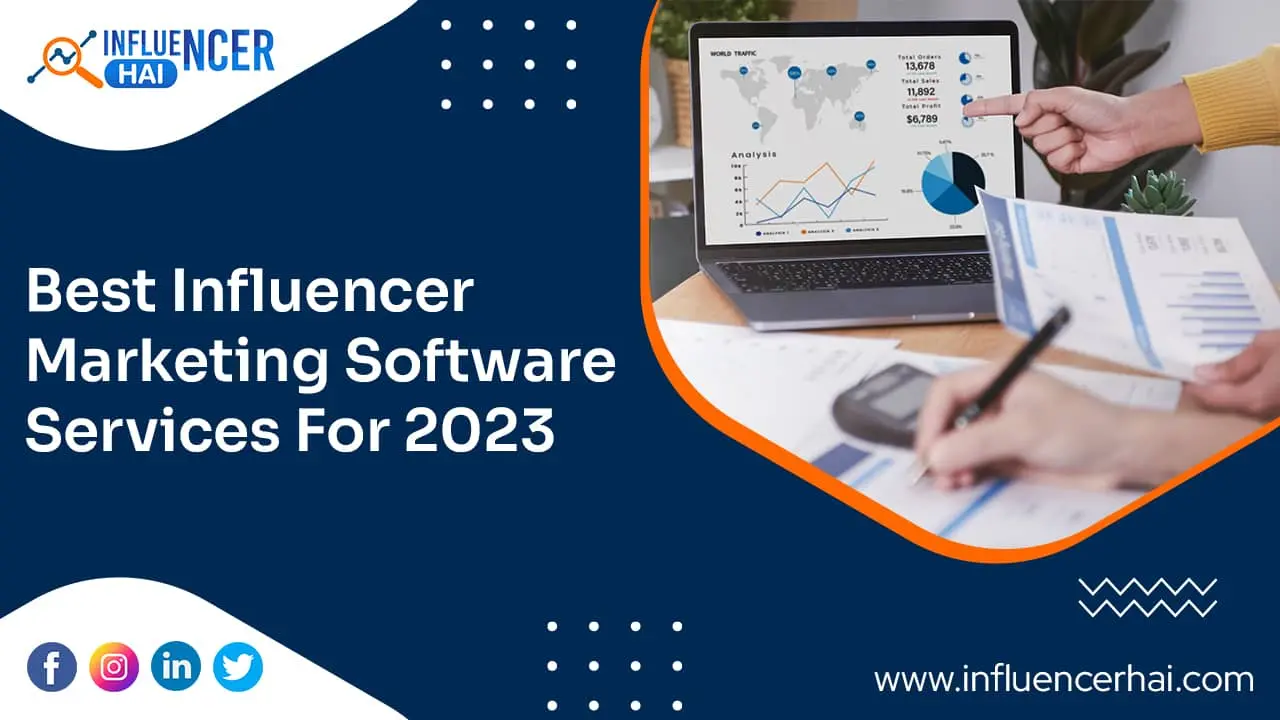 The influencer marketing strategy is slow and steady. In contrast to traditional marketing, brands must spend the time necessary to build honest and genuine connections with their influencers. Additionally, success is frequently assessed in the number of new brand devotees acquired rather than in monetary terms. With a bank statement to support it, it might be easier to determine success.
While managing campaigns and influencer connections doesn't have to be as time-consuming as marketing, it demands effort and personal attention. Finding the ideal collaborators, keeping an eye on campaigns, and gauging success (or failure) are all crucial jobs. However, it doesn't follow that they must place heavy demands on your time.
Influencer marketing software reduces the time-sucking administrative procedures that keep you from achieving your goals. It is an influencer marketing tool that allows you to focus on generating money by saving time and counting your money.
Software for influencer marketing helps brands use influencers more effectively by streamlining the process online. Before the invention of influencer marketing software, finding potential influencers, cultivating connections with them, and launching campaigns might take brands a long time.
It was extremely challenging to find the right influencers if you didn't already have insider knowledge of the sector. This approach became more straightforward with the introduction of influencer marketing software and specialized influencer search engines. The influencer marketing platforms eventually started to provide brands with additional services, including relationship management, campaign management, third-party analytics, influencer content amplification, and occasionally influencer marketplaces.
Best Influencer Marketing Software Services For 2023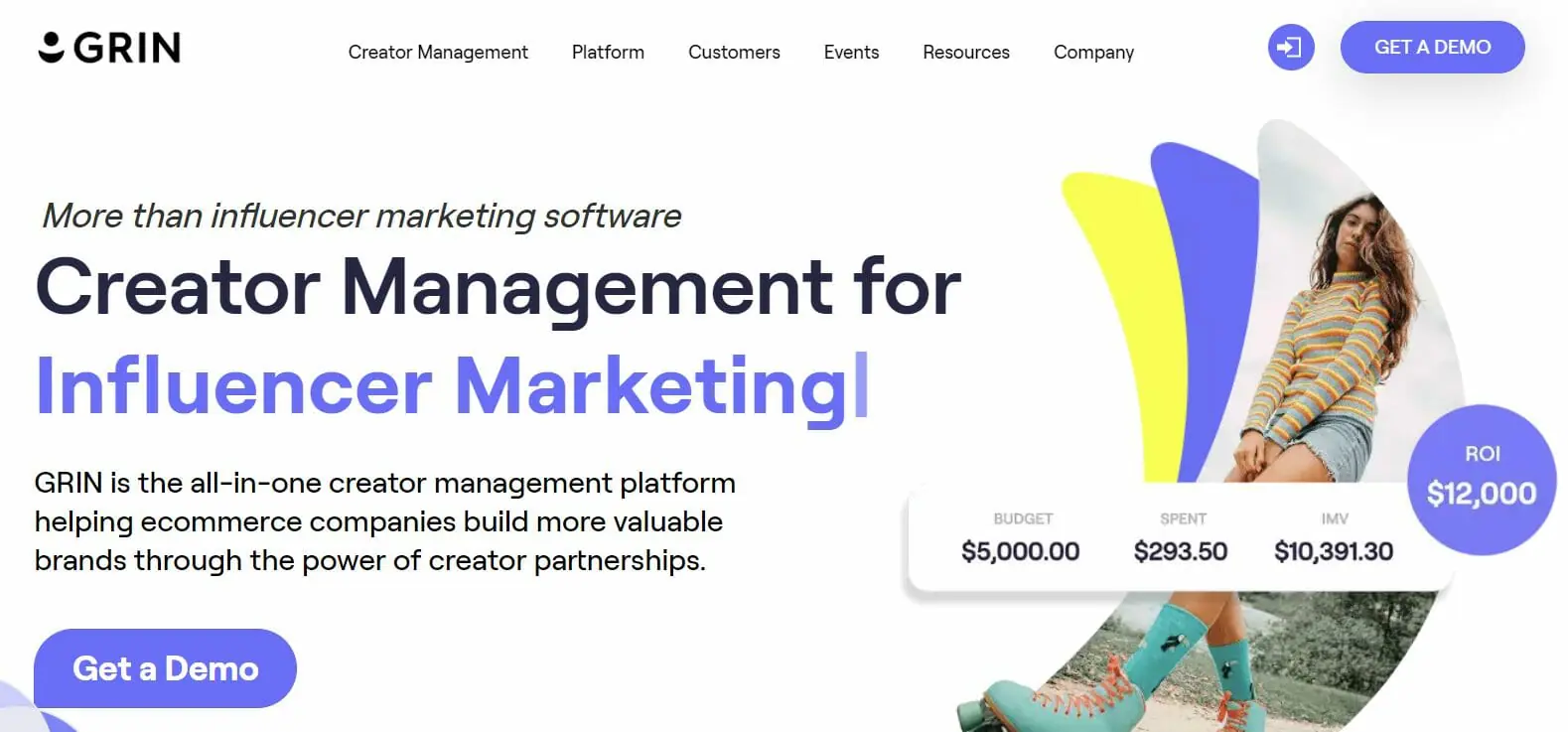 Grin is an eCommerce-specific end-to-end influencer marketing management tool. Grin gives you access to the tools and data you require while giving you total control over your interactions with influencers.
When using Grin, there are five steps you must take:
Import your influencers – Grin will create private profiles for each participant in your program after you upload your list of influencers. Using their sophisticated search, you can also find new Influencers.

Link Slack, email, and online shopping: Grin tracks sales, sync all of your influencer communications, and warns you of critical events.

Combined content: Grin analyses and organizes your branded material using Google Vision to generate attribute revenue. Grin attributes earnings across your entire program once your store is connected.

Automate hiring processes: Manage inbound applications by publishing campaigns' landing pages and automating outbound to find new influencers. Run incredibly targeted campaigns while keeping an eye on everything.

Send Products: Manage payments – Import your goods, let your influencers decide on a look, and Grin will monitor delivery. Track and manage costs at scale while collecting W2s.
Grin makes it simple to communicate with your influencers by allowing you to integrate many of your applications. Grin covers Magento, Gmail, Shopify, WooCommerce, Office 365, Slack, and SMS.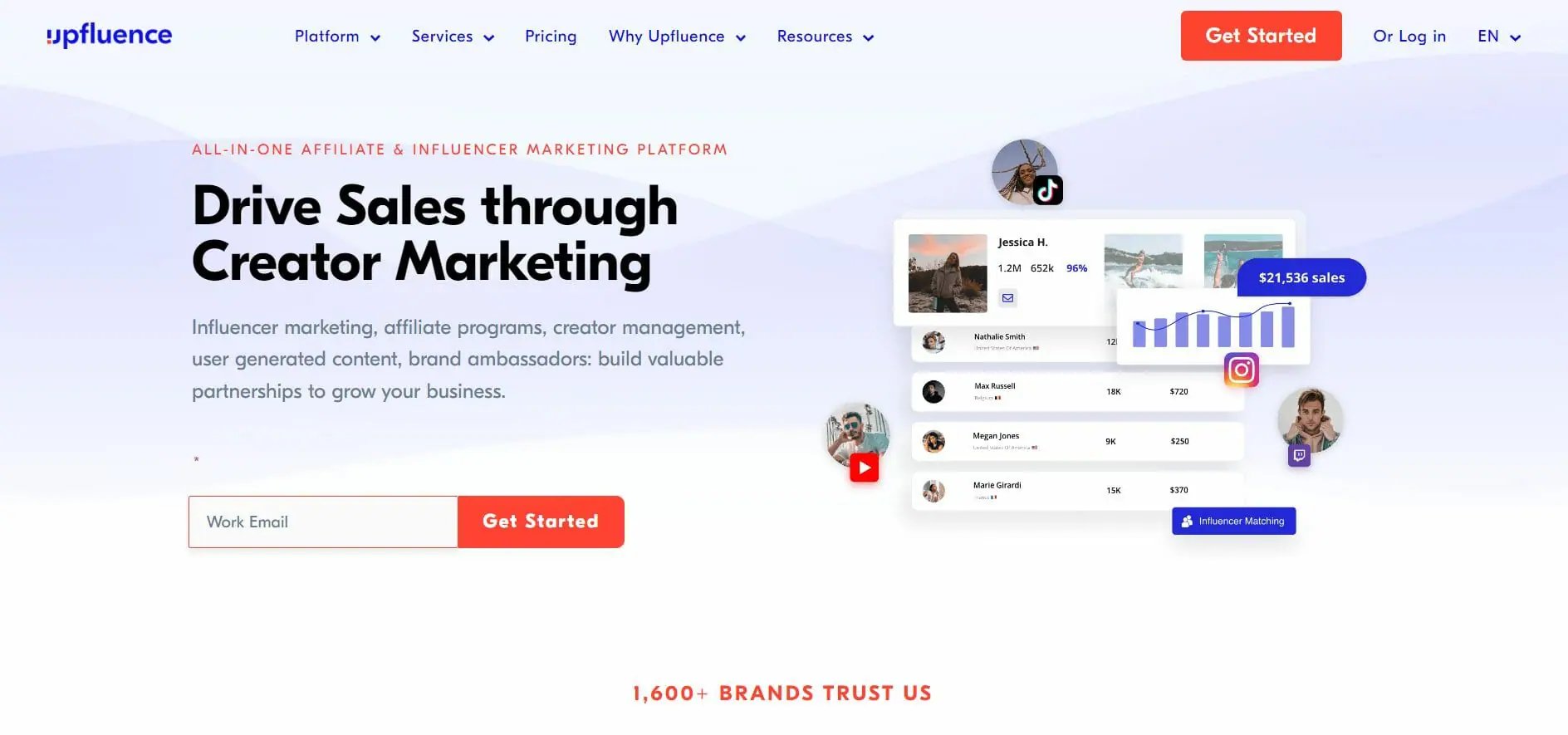 Upfluence transforms how businesses can organize, produce, and execute their content marketing plans by emphasizing bloggers. Reachr and Publishr, two different products used separately or together, make up the actual program.
Using Reachr, marketers can locate influencers to produce their content. With Upfluence's database, which includes thousands of bloggers from more than 200 industries worldwide, businesses may narrow their searches using more than 50 criteria to locate the ideal authoritative voice. 
It only takes a few clicks to get in touch with people who look like a good fit, and contracts can be negotiated and signed straight on the platform. The only thing left to do is wait for the bloggers to finish the writing and provide their approval after advising them on the content's scope.
The Publishr platform from Upfluence can be used by businesses who wish to move beyond content marketing and into the world of native advertising. Here, the campaign's specifics have already been established and made available to the community of bloggers for application. Companies can collaborate with as many writers as they want at once with Publishr. 
These authors have a history of working with news organizations producing sponsored content. The technology allows central collaboration with each writer, expediting the review and annotation of each work. Brands can monitor and evaluate performance as articles are published. The platform from Upfluence has been utilized by Victorinox, PayPal, Nestle, Citroen, and AirFrance to power their content marketing and native advertising initiatives.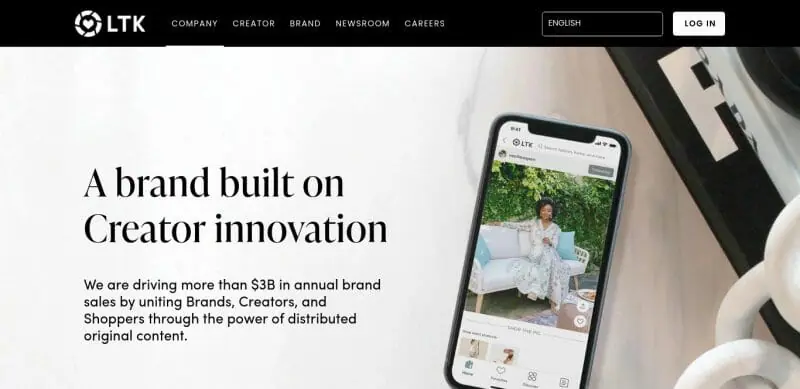 LTK's founder wanted to provide creators a substantial technological edge so they could become power partners to brands when he built the service. The LTK is one of the most reliable and effective influencer networks in the world, with the ability to impact billions of brand sales. 
It is made possible by LTK's enormous, carefully curated creator community, dispersed across more than 100 nations. LTK has unquestionably achieved its objective of becoming a market leader in helping brands find the talent they need to create effective campaigns.
LTK has developed a comprehensive platform that can handle every step of running a campaign, from identifying and enlisting influencers to post-campaign analysis.
LTK is the best equipped to help businesses reach their target audiences by developing premium content, thanks to its impressive roster of artists. Since managing influencer campaigns isn't a one-size-fits-all proposition, LTK has modified its partner management expertise accordingly. Customers like partners' flexibility when it comes to overseeing branded influencer programs. They enjoy the freedom brands and producers have when developing content and products.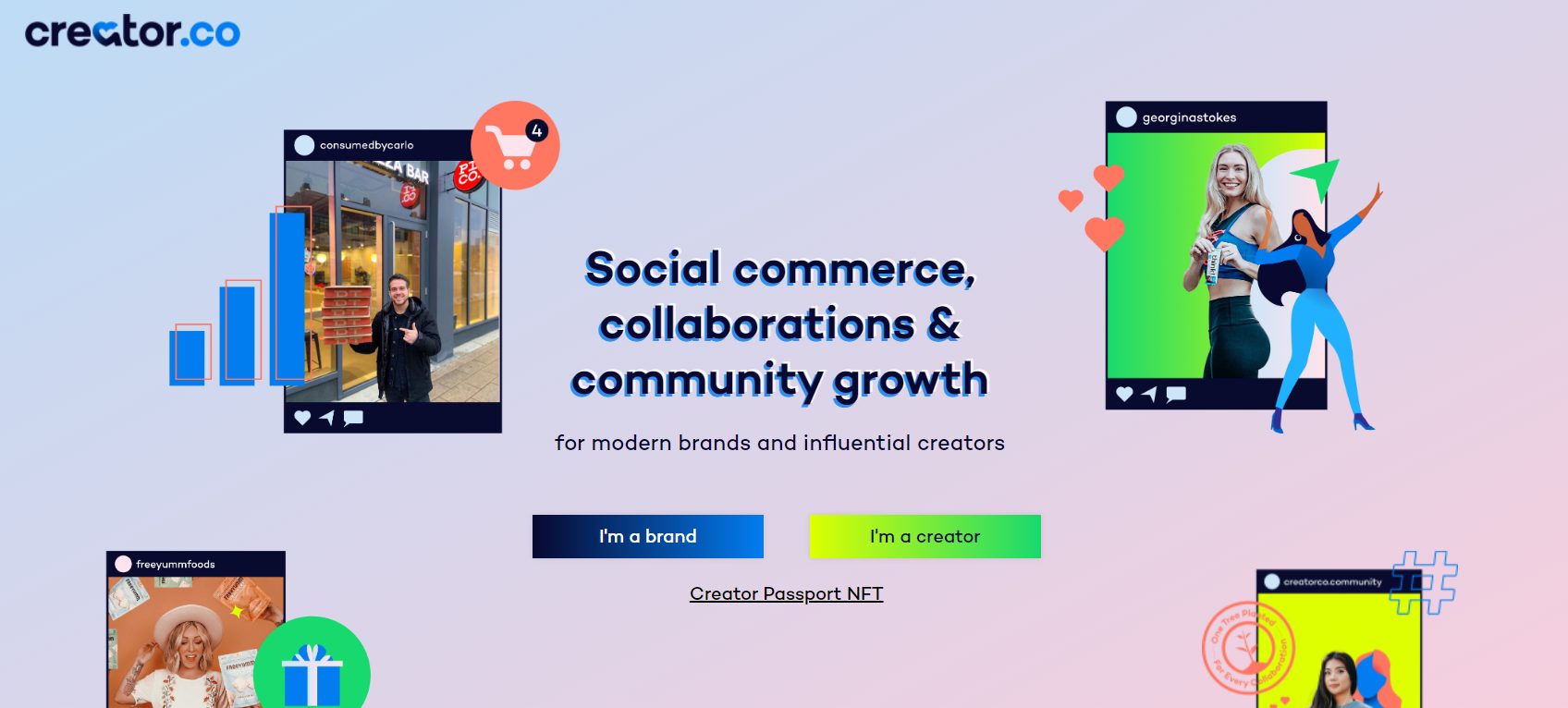 Creator. Co places equal emphasis on producing content and disseminating it. Its influencer marketing software is available in two different editions. One is "full access," similar to most influencer marketing platforms discussed in this essay. You may create and publish your campaign here, look for, select, and invite creators, look over the active producers, and watch as their work pours in. 
Alternatives include using influencer marketing software packages that are more automated. After onboarding with a campaign professional, you turn over management of hiring, negotiation, and execution to the Creator.co. After that, your specialist will find influencers for you, and it will be up to you to research them and engage the ones that interest you. You may once more relax and watch the content come in.
Whatever option you select, you must first define and create a campaign. You can choose a premade type or personalize your campaign. For instance, the ShoutOut campaign provides free products in exchange for promotion (along with cash if necessary). Through the Giveaways campaign, you may collaborate with influencers to promote your profile by holding giveaways.
Creator.co provides managed services, including paid ad and social media management and self-serve and managed collaborations. 
Businesses can connect their stores, sell their products, and invite creators, writers, and influencers to advertise the brand through their storefronts.
Additionally, Creator.co plans to allow businesses to conduct affiliate programs on its site. You can choose the products, set commissions, and connect your business here. You can encourage your followers and other influencers to apply to grow your community. You can track all shares, clicks, and conversions your affiliates make using the site, and commissions will reimburse automatically.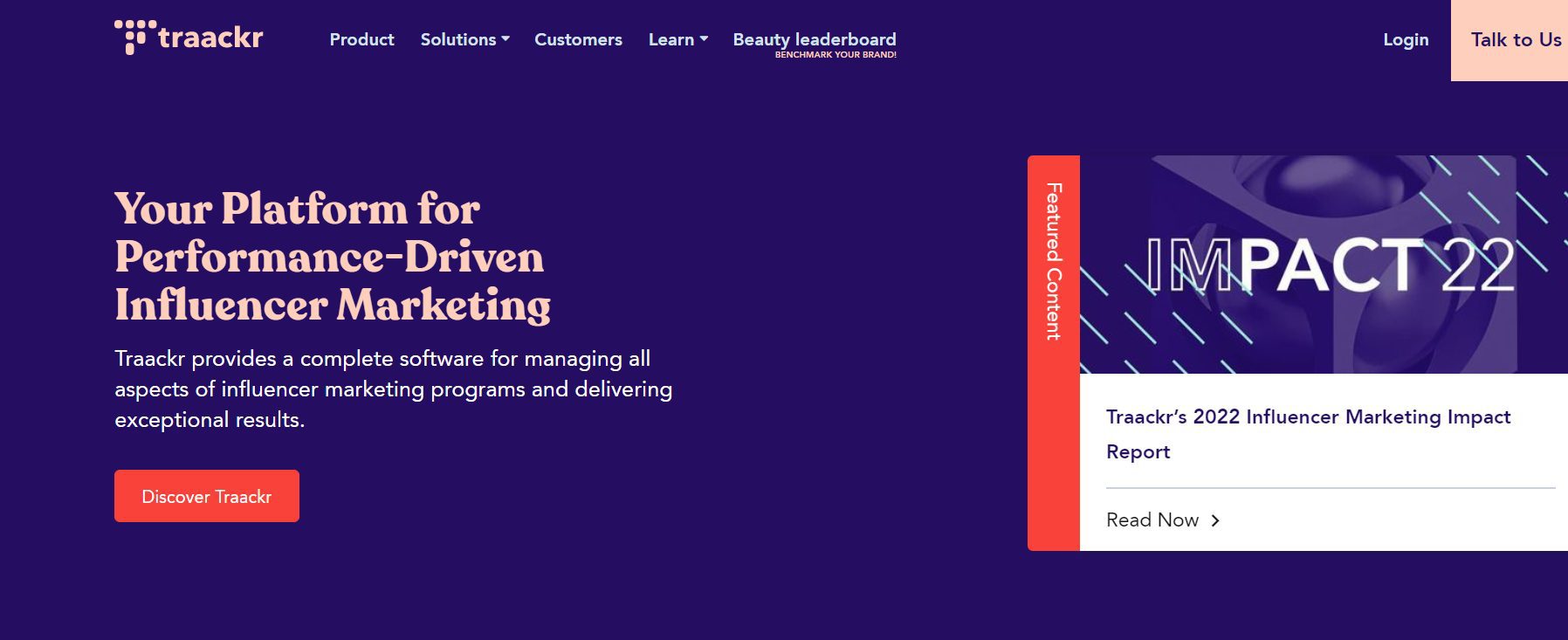 Without an extensive network of influencers and a robust analytics engine, no IM platform would be complete. Even though they don't emphasize this in their marketing materials, Traackr does not fall short on one of these counts.
One of the few businesses that recognize the selling point of influencer marketing is trust. Traackr platform focuses on Finding influencers to represent a brand and is strictly a financial transaction with other software. An algorithm or a one-on-one discussion decides the cost of sponsored articles after a brand and influencers are matched. And when it comes to short-term efforts intended to increase awareness of a single project or sell a product.
Although Traackr can do all these things, its main objective is to help the businesses it collaborates with gain "lasting influence." The platform enables marketers to interact with influencers and their audiences in meaningful ways that promote familiarity and establish trust. This focus can open doors to even more influencers, upstream and downstream, along with a wealth of data to visualize your influence network. You won't just connect with viewers; you'll also connect with the individuals who influence your influencers, creating new networks and connections that you might have overlooked.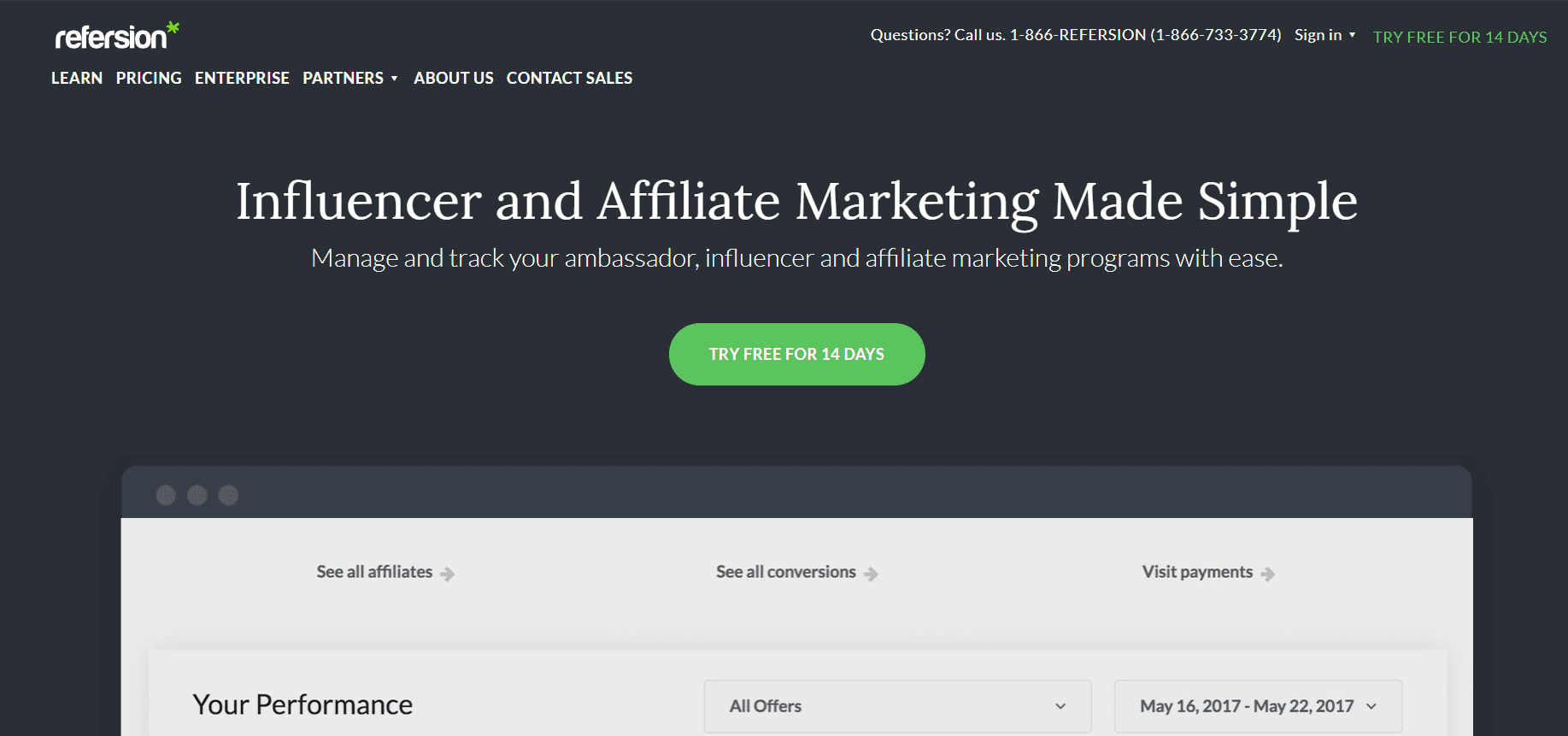 If we want to identify a flaw, Refersion provides affiliate marketing services rather than influencer marketing software, which is what it is. Refersion also considers many requirements for businesses looking to use influencer marketing.
Refersion was established in 2015 to assist businesses that develop and oversee sizable affiliate marketing networks with transaction tracking, payout capabilities, and streamlined reporting. 
With many influencers now participating in initiatives that drive sales, the distinction between affiliates and influencers is becoming increasingly hazy. Refersion quickly modified its product line to incorporate influencer marketing software services.
Influencers can log into an influencer portal to view all the information about your offers, including any conditions you have put in place before you are ready to pay.
A resource library with all the visual materials your influencers utilize is one beneficial aspect of Refersion. If a brand wants to update and repurpose the material, it can make any changes. For instance, updating an advertisement on the platform updates it downstream on an influencer website.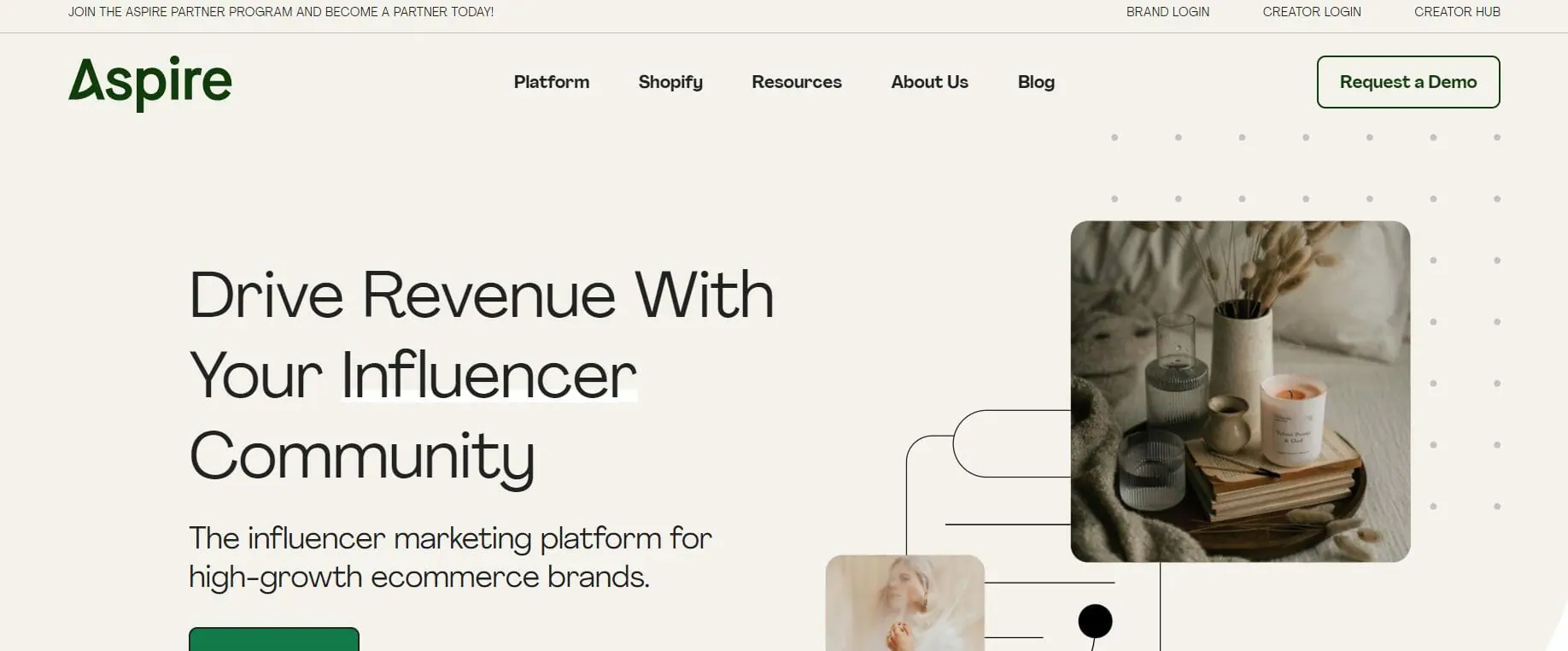 The AspireIQ platform is less involved with users than the other platforms on this list. Over 150,000 influencers from the top social media networks are accessible through this platform, according to the company, which bills itself as a self-service one. It is, therefore, a good fit for marketing agencies and brands that design their internal marketing campaigns.
In keeping with the platform's overarching objective, AspireIQ also strongly emphasizes content development. 
The platform, known as the Creator Collaboration Toolkit, facilitates interaction with influencers. While built-in tools help develop and maintain each piece of content, Brands can allocate roles and tasks. The development of each campaign may then be followed, along with audience engagement that results from its reach.
Customers of AspireIQ often fall into the SMB/extensive business spectrum. Refluence is advancing businesses like Quest Nutrition, Birchbox, Dermalogica, and Scopely, which may still need to be household brands.

NeoReach advertises its platform as a self-service influencer marketing software. NeoReach provides a choice for "Managed Campaigns," where NeoReach creates and manages entire campaigns on behalf of its clients.
Feliz Kjellberg, YouTube's most prominent and recognizable star, is frequently featured on their website (aka PewDiePie). Regarding brand partnerships, Kjellberg has been relatively outspoken about wanting to keep them to a minimum. He also doesn't require an intermediary to find him this kind of work.
Nevertheless, you should check out NeoReach. The company's platform has received a lot of press attention. It has drawn millions of dollars in investment and—most importantly—some very famous individuals to its expanding client list. The platform has clients such as Wal-Mart, NBC/Universal, Fanduel, and The Travel Channel to establish and manage influencer partnerships.
This kind of management is the main focus of NeoReach. It keeps a database of more than 3 million influencers from the most well-known social media sites. Competitors restrict access to their talent pools to influencers who have agreed to work through those platforms. 
In contrast, NeoReach does not have such exclusivity restrictions. Instead, thanks to its robust search engine, marketers may now restrict searches based on various factors, such as any existing brand affinities, social performance, and the demographics of their followers. Following that, businesses may use NeoReach to manage their interactions with influencers, including negotiating prices, developing campaign briefs, approving posts, and handling payments.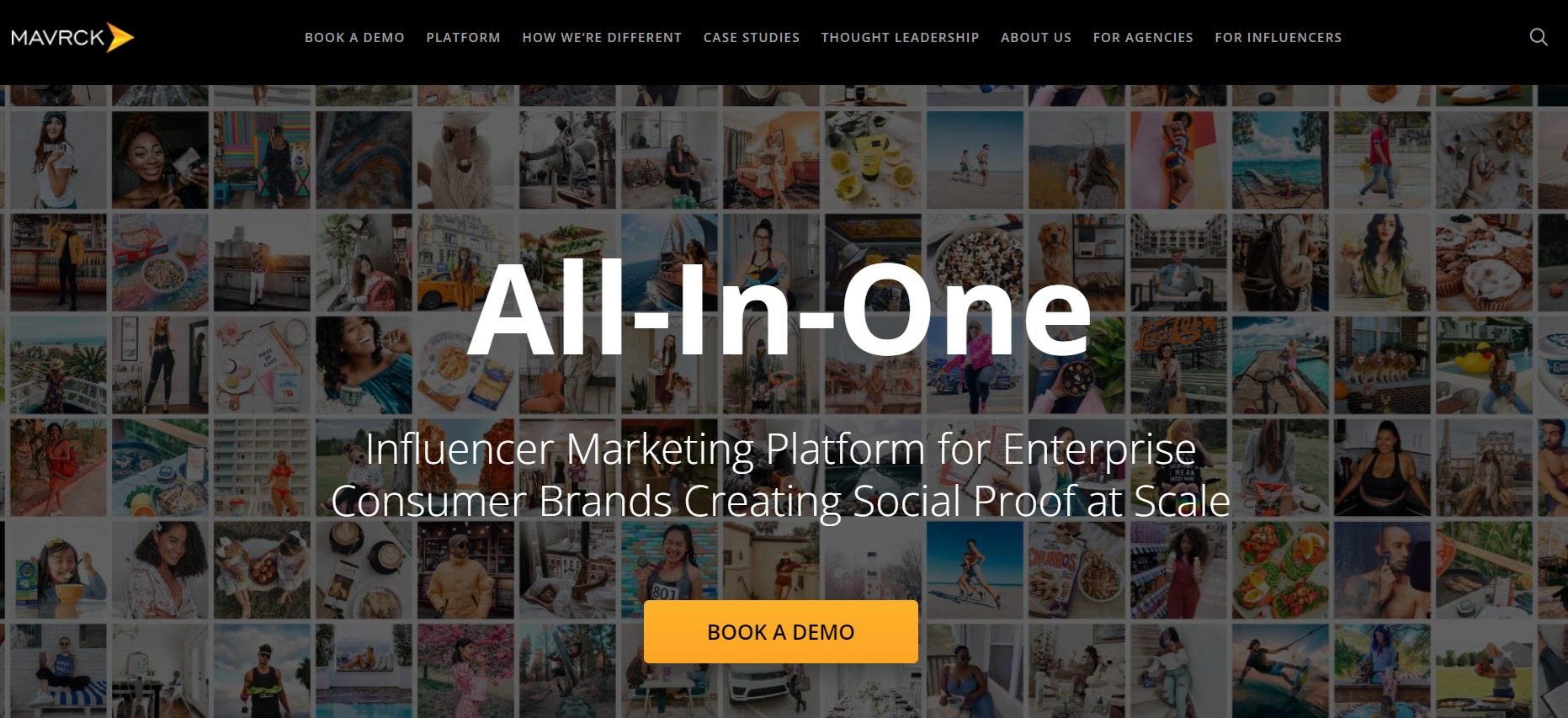 An influencer marketing platform typically compiles a database of individuals it considers popular on social media and through blogging. As you can see from the other profiles, some platforms ask influencers to apply to join them. In contrast, others employ a fully automated mechanism to do so. Typically, a firm using a platform to locate influencers will search the platform for individuals in their vertical who fit their style and have a large enough following and influence.
Mavrck, though, adopts an entirely different strategy. They believe a firm should turn its best current consumers into influencers who espouse the brand's virtues rather than hunting for suitable influencers to attract customers. The main advantage of doing this is that you avoid introducing yourself to an influencer and convincing them that your product is worth their time and effort to promote.
The success of Mavrck's strategy is evident in its impressive client list. The list includes names like Gillette, Dunkin' Donuts, Universal Studios, New Balance, Proctor & Gamble, Sears, and JetBlue.
Customers of Mavrck can create a white-labeled standalone microsite or add a unique plugin to their current websites. They then encourage their clients to use a Facebook login to access the website. Mavrck gathers pertinent information to assess a customer's level of influence. Their system can estimate a brand's consumer base's reach and level of involvement. Using this information, Mavryck can evaluate a customer's level of influence and whether or not they would be helpful in an influencer campaign.
Customers deemed necessary enough are presented with social activities to participate in and can earn rewards for doing so.
With 102.3 million social accounts, Mavrck has found 10.6 million micro-influencers for its database. The majority of Mavrck's influencers are folks who are unaware of their status. From their perspective, it resembles being a member of a sophisticated loyalty program where they receive a gift for spreading brand awareness.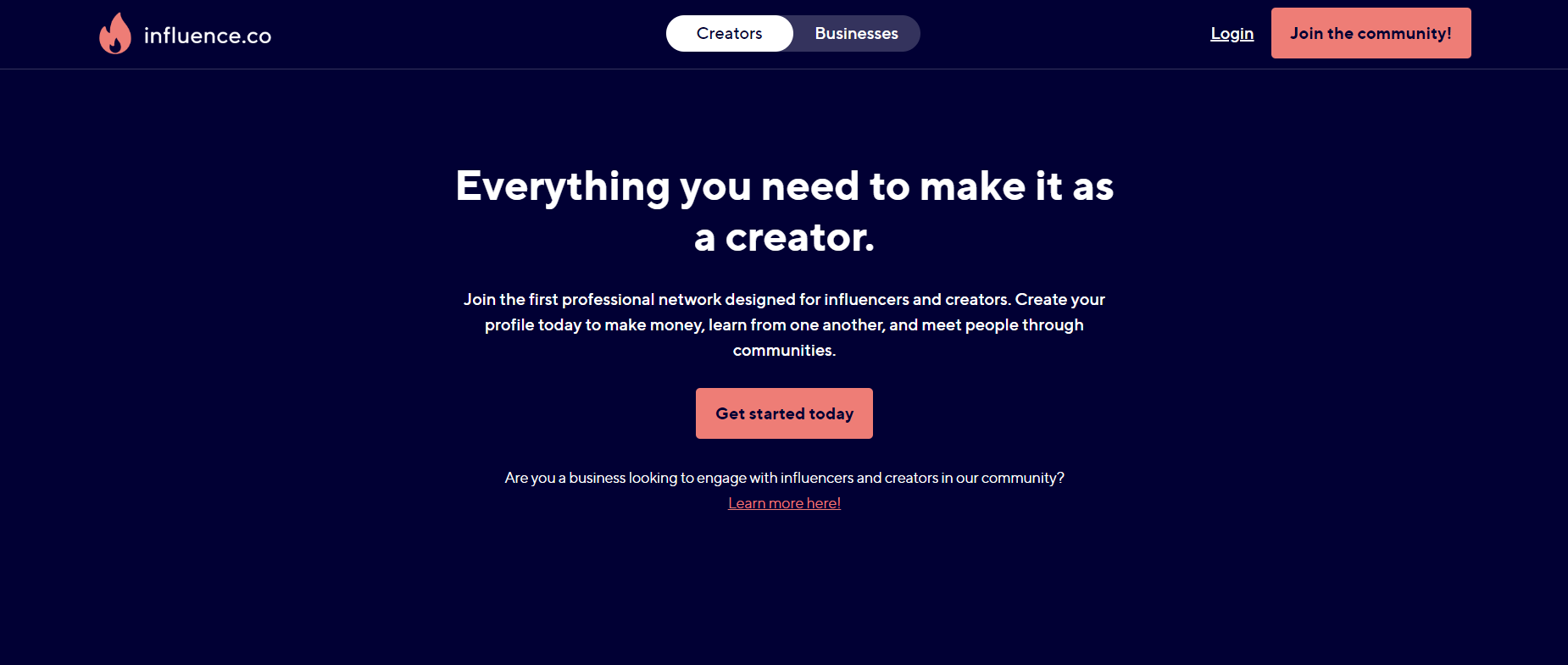 Influence.co, operational since 2016, is frequently referred to as the LinkedIn of influencer marketing. It is a distinct social media platform, distinguishing it from practically every other influencer network. This aids companies in developing and maintaining the kinds of genuine, long-lasting relationships that are the foundation of influencer marketing.
With over 250,000 users, 150,000 of whom are influencers, and 70,000 businesses, including well-known names like Amazon, Jack Daniels, Bumble, and Dyson, influence.co is now a social network and marketplace.
Influence.co offers a freemium business strategy with one free (Business Basic) and one paid ($600/mo) plan. You can create your profile and gain access to the influence.co's community with the primary account. Basic searches are available, allowing up to 50 results per search and up to 3 lists of results. Standard influencer demographics are available. You can also make and publish campaigns on the platform, receive infinite applications, and communicate with up to 12 influencers monthly.
This is expanded upon in the Pro plan, as you might anticipate. You get limitless campaigns, campaign management, campaign reports, team members, advanced searches, unlimited results, unlimited lists, and advanced searches (including by demographics).
Influencers also offer a free Basic plan and a premium Pro plan. The Pro accounts have access to 30 member contacts per month, 30 brand campaigns per month, limitless results and lists, Instagram follower statistics, and their profile.
Frequently Asked Questions
Influencers use the power of social media platforms to showcase a brand or either product or service to their gigantic community, i.e., subscribers/followers. It is one of the most effective ways to align a company with an engaged audience and increase brand awareness.
The way consumers consume internet content evolves rapidly. To capture the attention of users who spend more time on the internet than on TV, many brands need to change their marketing strategy is called Influencer Marketing. Read More here
Software for influencer marketing helps brands use influencers more effectively by streamlining the process online. Before the invention of influencer marketing software, finding potential influencers, cultivating connections with them, and launching campaigns might take brands a long time. It was extremely challenging to find the right influencers if you didn't already have insider knowledge of the sector.
Some of the most well-liked and effective platforms for influencer marketing are:
#paid
AspireIQ
BrandConnect
Creator.co
CreatorIQ
Grin
Humanz
influence.co
Influsoft
Klear
LTK
Mavcrk
NeoReach
NEXT Business Manager
Peg
Refersion
SocialBook
Tagger Media
Traackr
Upfluence
Webfluential