The Top 10 Influencer marketing agency in India assists brands in connecting with the targeted audience by collaborating with influencers.
Consumers who read brand reviews or rely on peer recommendations to buy a product require social proof. Targeted customers are needed to anticipate how other people have used the product.
Many brands need more data, customer feedback, etc. Such brands employ influencers to share their product opinions, creating a critical consumer touchpoint and purchasing journey.
Many brands need more data, customer reviews, and other factors. Such brands employ influencers to share their product opinions, creating a critical consumer touchpoint—purchasing journey.
Influencer marketing agencies in India assist brands in identifying influencers who can facilitate an audience through constant communication. Expert teams at influencer marketing agencies have access to creator profile data, which helps them identify the right influencers.
Many brands use influencer marketing agencies like InfluencerHai.com to find the right influencer. The platform provides access to over 50k creator profiles with insights on performance and audience to help you find the perfect match.
10 Top Indian Influencer Marketing Agencies, including us: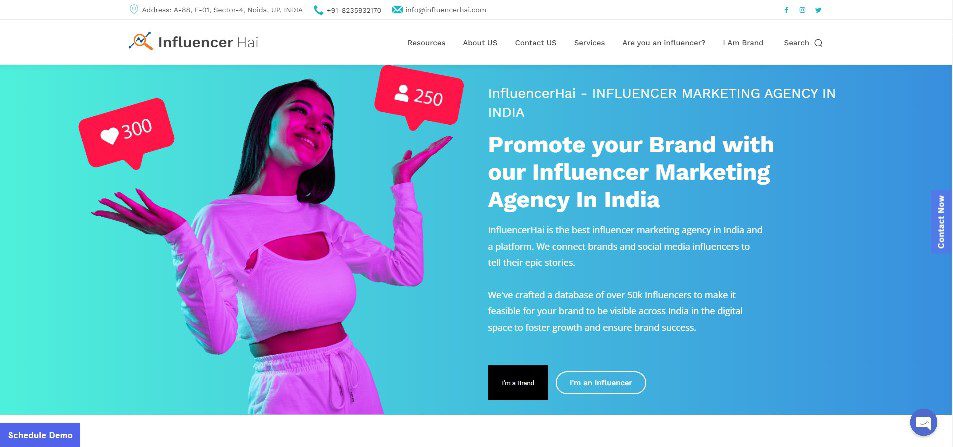 InfluencerHai, based in Delhi NCR, is the best influencer marketing agency in India; it creates targeted campaigns for Indian brands in various content segments like Vloggers, Gaming, Tech, Fashion, Beauty, Fitness, Health, Travel, Foodie, Motivational, and Educational Influencers.
This Influencer Marketing agency has a network of more than 50k influencers who create content in various languages, including Tamil, Hindi, Bengali, Telugu, and others.
The company provides content selection, influencer selection, delivery of the report, and analytics, which includes information such as reach, likes, shares, and engagement on the post. InfluencerHai.com offers influencer marketing on YouTube and Instagram to increase brand visibility.
Their Clients Include Zupee, Yelo, Meesho, Mounting Dream, Myteam11, Oneaxcess, Picsart, Vidlike, Wondershare, Wooly, Without-bg, Cryptohill, Deutsche Bank, Ekhelo, Gearbest, Iqoption, Hi Dictionary, Taxol, Videobuddy, Sports11, and Zorro.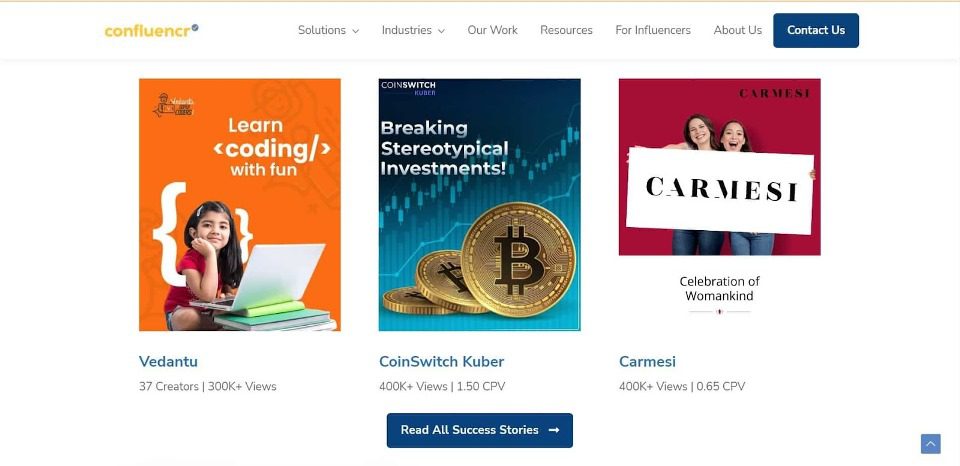 Confluencr, based in Mumbai, creates targeted campaigns for Indian and international brands in eCommerce, healthcare, food and wellness, and education.
The agency has a network of more than 15000 influencers who create content in various languages, including Tamil, Hindi, Bengali, Telugu, and others.
The company provides content mapping, influencer selection, delivery, reporting, and analytics. The agency also organizes celebrity collaborations, connecting brands with actors, musicians, stand-up comedians, and other celebrities to reach a wider audience.
The company offers influencer marketing on YouTube and Instagram to increase brand visibility.
Their Clients include Kotak Mahindra Bank, Paytm, Vedix, Masai, WOW Skin Science, Pet Fed, Vedantu, Flipkart, Ola Foods, and Groww.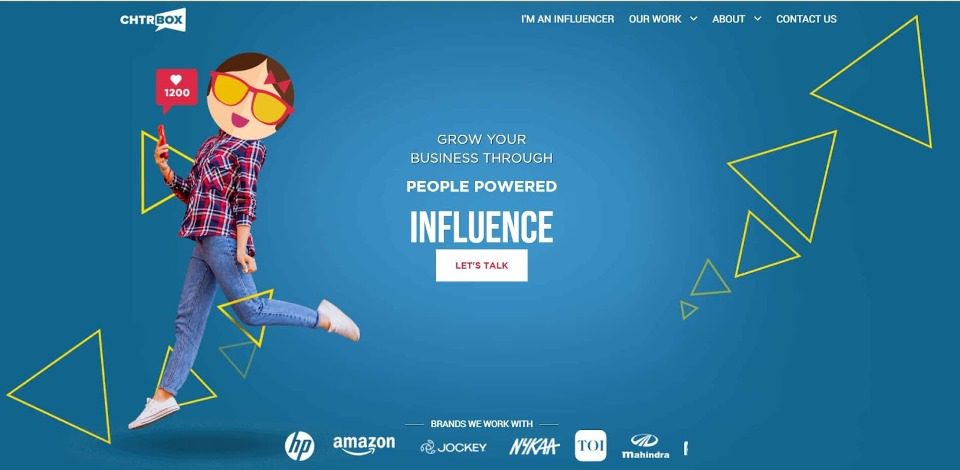 Chtrbox provides regional brands with targeting niche audiences in association with social media influencers, bloggers, YouTubers, and product ambassadors in various categories. Chtrbox is an India-based influencer marketing agency well-known for its award-winning campaigns.
It uses its tool to find relevant influencer data to select the right influencer for your brand. The device also assists the agency in measuring ROI by displaying detailed data and insights on customized dashboards.
The agency gives influencers a place to create content, earn money, and advance professionally.
Their clients are Vogue, Tropicana, Puma, Pepsico, Whisper, Tinder, Nokia, Flipkart, Livon, and Hike Messenger.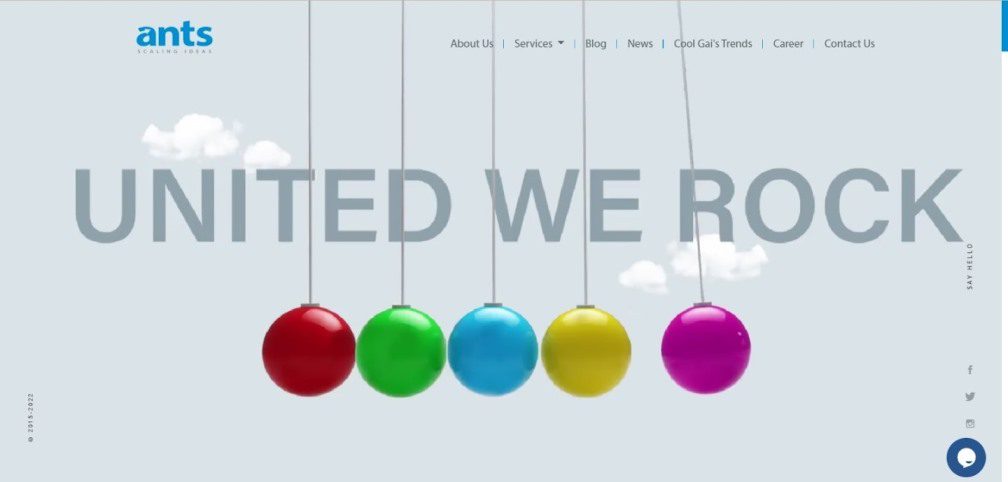 ANTS Digital claims to be India's largest influencer marketing agency. ANTS provides influencer marketing services in lifestyle, fashion, beauty, travel, health, and parenting category segments with a collection of influencers, key opinion leaders (KOLs), and bloggers; the agency connects you with the best regional talent.
As a tech-driven marketing and communications agency, it executes data-driven, personalized campaigns to align with the brand's goals. The company follows the six-step process: "goal determination, competitive analysis, influencer discovery, ideation process, outreach and promotion, and measurement."
In addition, the agency provides digital marketing, branding, public relations (PR), and creative services.
T‍heir Clients are GroupM, Ejot, Jain Farm Fresh, Eden, Concentrix, HQ, Kleen Skin, and Youva.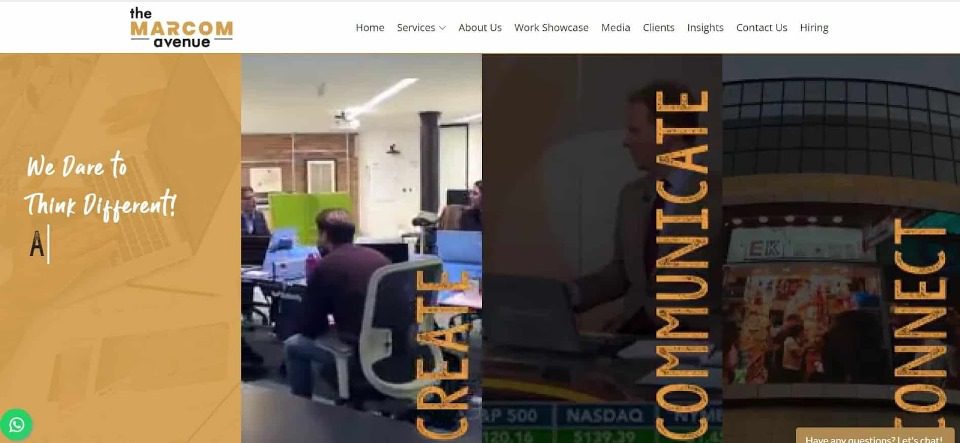 Marcom Avenue assists B2B and B2C brands to beat the competition by running social media campaigns. The company creates one-of-a-kind brand stories to connect with the target audience emotionally.
The agency is one of India's best influencer marketing agencies, with connections to over 20,000 influencers, including social media stars, content creators, vloggers, and others.
The agency offers Influencers, content creation, influencer selection, distribution, and brand uplift. It provides technology, experiential, creative, public relations, and filmmaking services.
Their clients are Explurger, Instax-Fujifilm-Geeks-for-Geeks, Mahindra-World-City, Nestle, OLA, Oppo, OYO, Punk, and Titan.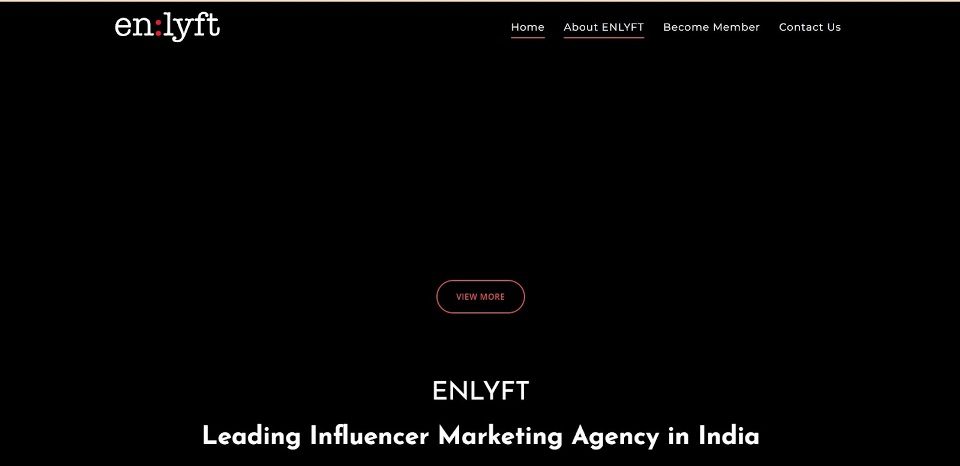 ENLYFT, an Indian influencer marketing agency, runs ROI-focused campaigns to increase brand visibility and customer retention. They've associated with more than 20,000 influencers in lifestyle, food, education, parenting, and travel brands, among other areas.
ENLYFT company stands to enable, enhance, and engage.
Enable: Manage campaigns & organize workshops to assist creators in developing creative content
Enhance: The agency creates custom campaigns based on brand expectations.
Engage The company analyses performance and shares ROI reports as part of its "engage" process.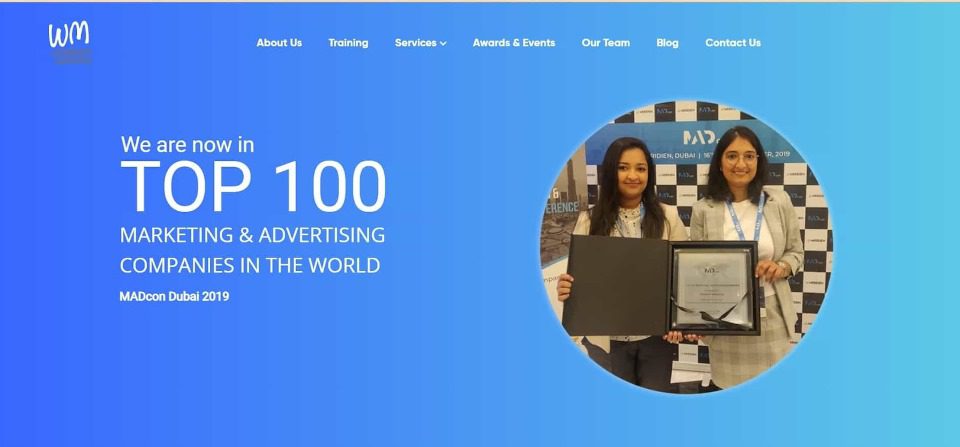 Whisskers Marketing is a top social media agency in India specializing in influencer marketing. The agency connects regional brands with micro-influencers such as bloggers, creators, vloggers, moms, and others.
The agency offers to all firms in lifestyle, food, education, healthcare, and other category segments, From small businesses to large-scale multinational corporations. The agency cultivates long-term relationships between the brand and influencers to make the content appear more authentic to the audience.
Their influencer marketing process includes campaign design and content creation, influencer search using a finder tool, and influence analytics based on key performance indicators (KPIs) such as likes, comments, and shares.
Their clients are FreshGravity, Great learning, McCANN, Meena Bazaar, Opera, Organic-Harvest, The Princeton Review, and Vakil-Search.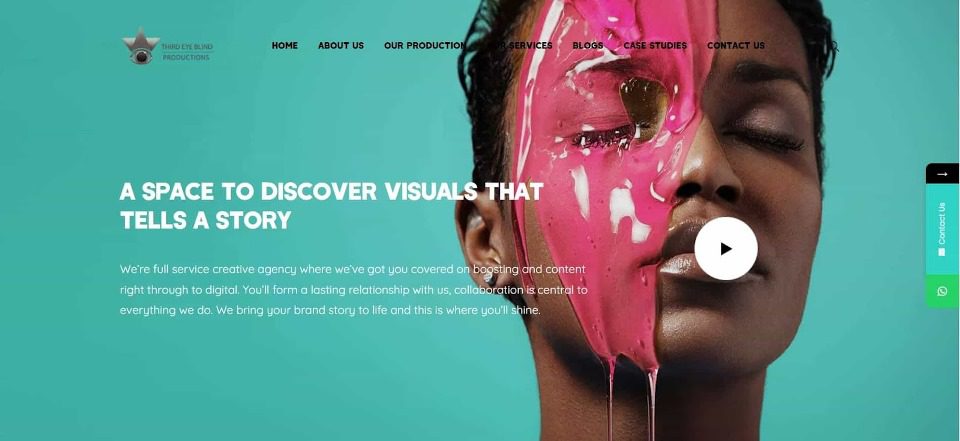 Third Eye Blind Productions manages influencer campaigns from end to end, including audience research, campaign creation and strategy, execution, insight, and reporting.
This influencer marketing agency in India, based in Mumbai, aims to create full-scale campaigns that lead brands to achieve their business objectives. The company has a network of convincing social content creators, celebrities, models, and brand ambassadors.
With its in-house tool, the agency collects insightful data about the performance of your campaign. It also employs paid advertising to increase the reach of influencer content.
Their clients are Angel One, KhataBook, Maybelline, Mamaearth, Urban Company, Vauld, Wazirx, and WOW Skin Science.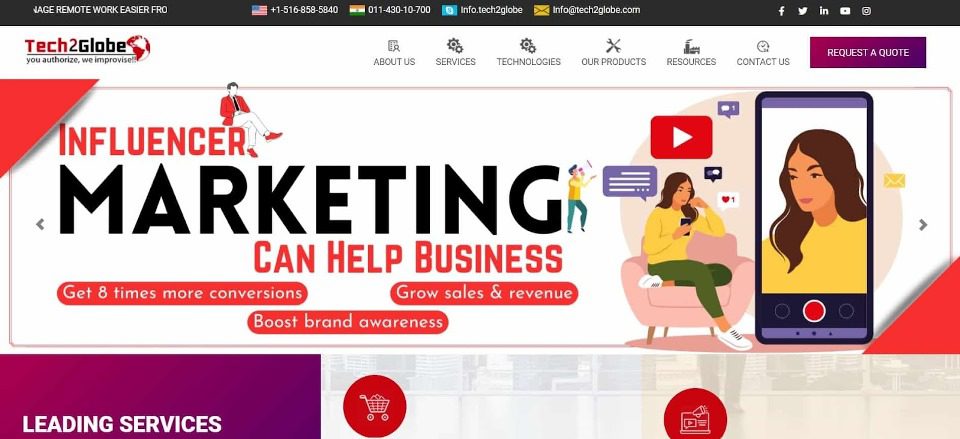 The Tech2Globe agency views influencer marketing as a creative strategy rather than a publicity medium. The agency hires seasoned influencers and gives them creative freedom to create authentic content on social media, increasing brand credibility.
This Indian influencer marketing agency works with influencers in B2B, eCommerce, education, healthcare, travel, and other industries. It also develops strategies, matches creators, manages campaigns, and advertises on social media.
The agency researches everything about your company to enable successful collaborations, from the audience to competitors and existing strategies.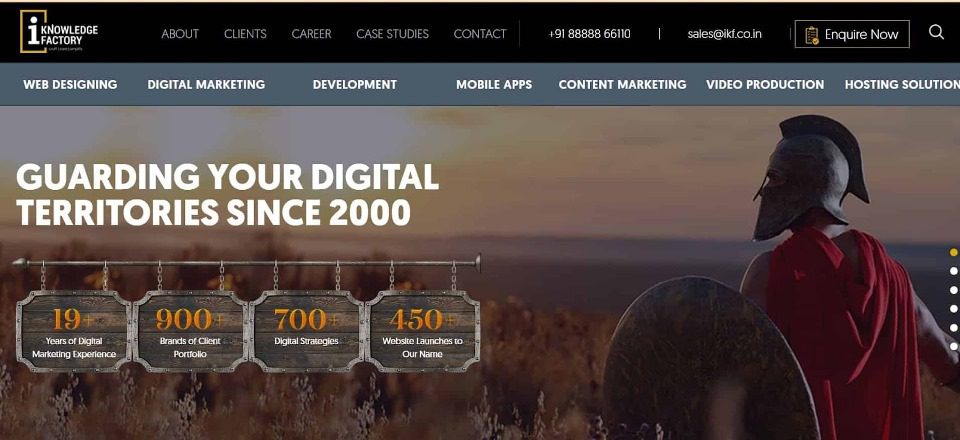 IKF has nearly two decades of experience serving 850+ brands in education, healthcare, hospitality, finance, real estate, and other industries. In the debate over paid ads vs. influencer marketing, the agency believes influencer marketing is more effective.
As a result, it drives clients' authentic and impactful creator campaigns. Creator examination and outreach, relationship building, campaign strategy development, and execution are all services provided by the agency.
Conclusion
This article covers some of the top 10 Influencer Marketing agencies in India in 2023, followed by 2022. These agencies are doing great work in that niche and helping brands to promote their business. These agencies also help you know about important updates that are taking place in the market.
In marketing, agencies and forums play a significant role. They help spread the word about products and services available in the market. A good agency should offer high-quality service to its clients rather than selling them out.
Influencer marketing is a newer form of marketing that focuses on certain influential people in different niches and then having them promote your product to their audiences. It is much more effective than traditional forms of marketing in some cases because the people you are targeting already have an interest and something to talk about. Best Influencer Marketing Agency in India
Influencer marketing is the future of advertising, and only the best agencies will rise above the competition. And suppose you're in the market for a new partner to help your brand reach its full potential. In that case, you must align yourself with an agency with what it takes to take your campaign to the next level.
Use our guide as a resource to evaluate any prospective partners who want to work with you. Below are the contact details; feel Free To Contact Your best influencer marketing agency in India.
---
Faqs
Since start-ups and mid-sized enterprises typically have limited resources, influencer marketing is perfect for them. Additionally, it is a tried-and-true way to generate buzz in a specific region. For this reason, influencer marketing is preferable for small firms rather than conventional marketing. Your audience won't be swamped with information during an influencer marketing campaign. They will be encouraged to purchase your products & services for all the benefits they offer.
The influencer marketing campaigns are organized by influencer marketing agencies to promote various brands and businesses. These firms find the top influencers and get them to sign contracts committing to the deliverables. The concepts and material your brand develops with the aid of an influencer agency will encourage engagement from the influencers' audience. For each campaign, these set up tracking pixels and other tools to give your brand in-depth data and quantifiable information.
No. Compared to celebrities, influencers typically have a limited reach. They specialize in a specific area and produce content in that particular area to attract those with similar interests. In contrast to celebrities, influencers typically engage with their devoted fans who share common perspectives with them.
Following the successful conclusion of your campaign, you can anticipate:
Exceptional visual content for your project's promotion
Increased number of visitors to your social media pages
More engagement
Increased queries
To launch your first influencer marketing campaign, get in touch with an Influencer Hai - an authentic influencer marketing agency. Our team will provide you with thorough guidance and handle everything from reaching out to influencers to creating a successful marketing campaign. We use the latest analytics technology that will enable you to assess the success of your campaign.
Influencer marketing has a significant impact on your company's long-term strategy. Your website's traffic will grow naturally as a result of an effective campaign, which will help your SEO ranking on google search engines over time. Additionally, it will enable you to establish lasting relationships with your clients, which will lead to you achieving your business goals successfully.
Influencer Hai is a top influencer marketing firm, and hiring us as a beginner will ensure that your ROI is maximized. You can check the effectiveness of your campaigns using our analytics software.
Additionally, we will assist you in choosing the right influencers who can effectively convey your brand's message using their creative style. Working with us is not only an affordable option, but it's time-efficient too. Furthermore, we will assist you in creating a premium campaign that will effectively increase the revenue from your target audience.
Influencer Hai provides you with numerous analytics tools to monitor the performance of your campaign. You may check your business profile's reach and impression on Instagram and other social media influencer platforms.
The formula for engagement is pretty straightforward:
Engagement = Reach + Clicks + Likes + Comments + Shares
The steps followed for an influencer marketing campaign to be successful are: Step I: Set your promotional objectives. Step II: List your specifics (budget, type of content, design, etc.) Step III: Decide which influencers you want to work with Step IV: Create engaging content Step V: Promote your content on social media Step VI: Track Performance
The cost of the campaign varies from business to business and from one industry to another. Additionally, it will depend on the deliverables and the number of influencers you wish to collaborate with. You will receive more inquiries and your campaign will cost you more if you want to run it simultaneously across several social media networks.